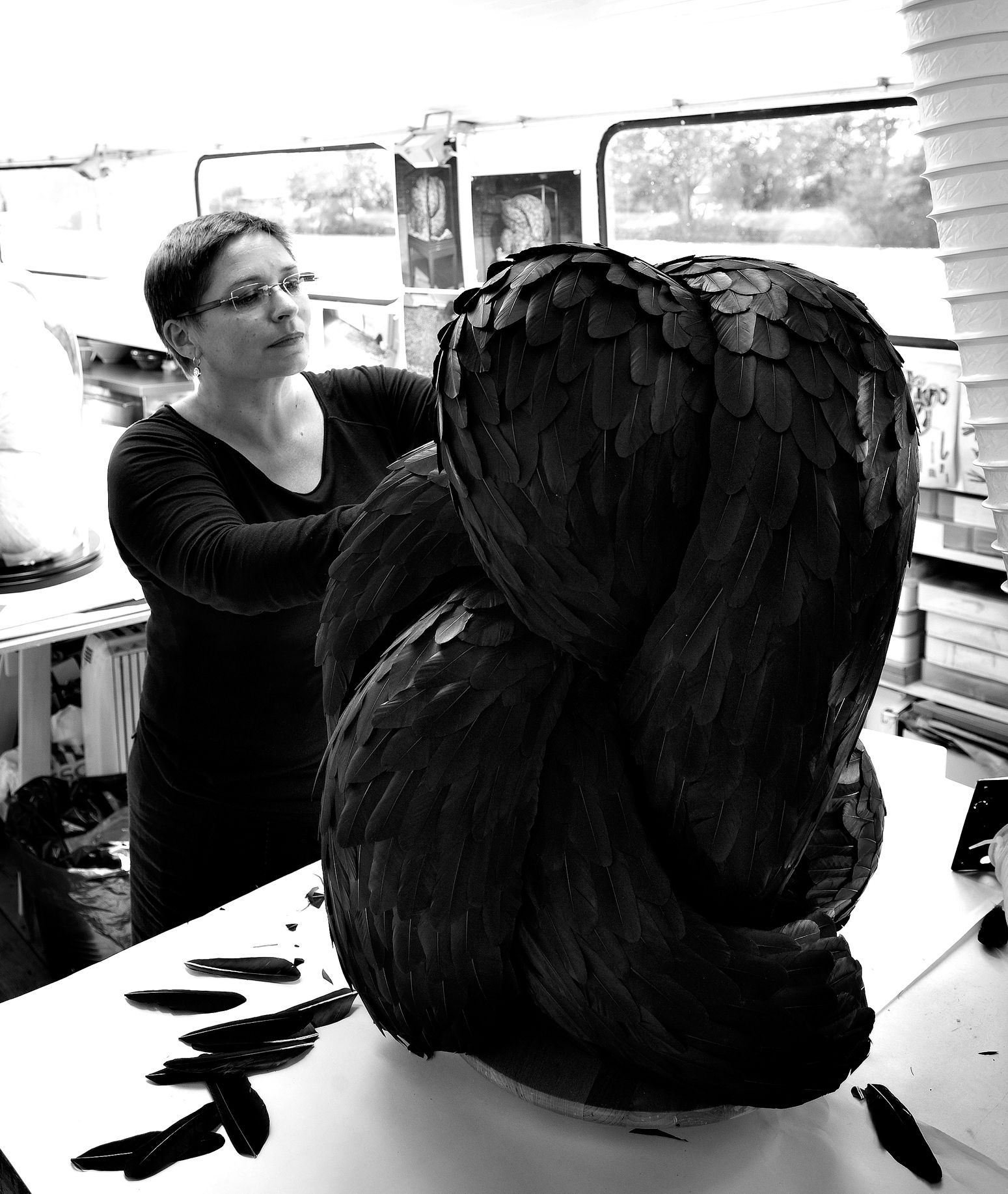 Photo Credit: Tessa Angus
When the directors of MoMu, Belgium's leading fashion museum, contacted British artist Kate MccGwire to ask her to produce work for its 2014 "Birds of Paradise: Plumes & Feathers in Fashion" exhibition, she thought they were joking. But when they turned up to meet with her in London, she knew this was the real deal. They asked her to do an installation at the museum in Antwerp, which would complement the gowns on show by designers including Alexander McQueen, Jean Paul Gaultier, and Thierry Mugler.
Photo Credit: A. Brattell
So, why her? The former interior designer decided to change her career after the birth of her second child and returned to university to study fine art. She graduated with her MA from the prestigious Royal College of Art in 2004, and immediately got down to work, having sold the installation from her graduate show to art-collector (and champion of British artists like Damian Hirst and Tracey Emin) Charles Saatchi. A year later, MccGwire bought a barge on the River Thames, moored on an island on the edge of south-west London and it was there that she started working with feathers. "There was an industrial shed near my studio which had feral pigeons in it. I started picking their feathers up when I was walking to work in the morning but I didn't know that the birds only molt twice a year," she explains.
Photo Credit: JP Bland
Having realized that she needed significantly more feathers than she could collect, she contacted the owners of racing pigeons and persuaded them to keep the feathers for her. She now uses these in her feather sculptures, which can broadly be split into three categories: framed works, which are the closest to 2D pieces and can be hung on a wall; encased works where the sculpture is enclosed by a glass dome or within a cabinet; and installations, where the sculpture ranges in size, with the biggest being around seven meters in length, sweeping across a floor. Due to the painstaking technique of gluing specifically chosen feathers to a base, most works take around a month to create. And that doesn't even take into account the months spent preparing the feathers—cleaning them, sorting them by color or style, gluing individual pins to quills—for this MccGwire is lucky to have a team of part-time assistants to help her, "otherwise I'd barely be able to produce anything," she laughs.
Photo Credit: S. Asakawa
The exhibition in Belgium introduced MccGwire's work to a more fashion-obsessed audience, in particular, the design team at Ann Demeulemeester, who also had work featured in the show. They approached MccGwire and asked her to collaborate with them on their Spring/Summer 2016 collection. She made five individual kid leather pieces with quills on them that went around the neck, a gilet, some jewelry, and her feather fabric designs were used for some of the dresses. "It was great seeing them all going down the catwalk—it was quite an amazing moment."
Photo Credit: JP Bland
Demeulemeester wasn't the only brand to admire MccGwire's work. Earlier this year, she was invited to Tokyo to make a number of large installations for the windows of Hermès' flagship Ginza store. And with serious collectors like Saatchi, Thomas Olbricht, Avery Agnelli, and the design director for Sonia Rykiel championing her work, it won't be long until the name Kate MccGwire is on everybody's lips.