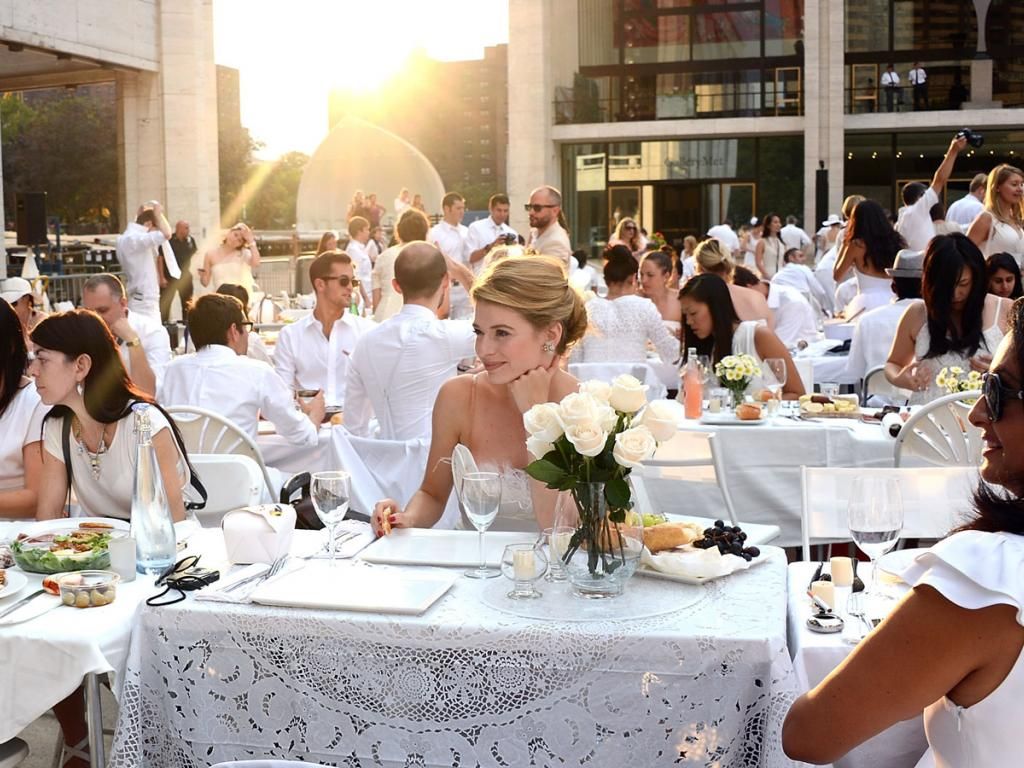 Photo Credit: Le Dîner en Blanc
Born almost 20 years ago in Paris, Le Dîner en Blanc (French for "The Dinner in White") is an annual invitation-only dinner event, hosted in world renowned cities such as Los Angeles, Toronto, Barcelona, Prague, Moscow, Dubai, and many more. The location of each function is kept secret until the evening of the affair, even from guests. Attendees are given a location to gather before the dinner begins, where they are escorted in groups to a spot not far from the venue. Upon arrival, the last few minutes of the journey are completed by foot. Hundreds (and sometimes thousands) of diners, dressed to the nines in pure white, move together to their final destination where the party commences. The spectacle often draws attention, with passersby stopping to watch what could be described as an elegant and ravenous flash mob, sans the synchronized dancing.
Photo Credit: Brandon Driver
Created by François Pasquier in 1988, Le Dîner en Blanc originated as a way for a few friends to identify each other for a picnic. The group simply agreed to the clean color theme of white. Over the years, as the event has grown to become a public tradition, a certain level of elegance has been incorporated. Hats, masks, wigs, tuxedos, dresses, tables and more were quickly adapted into the mandatory theme of white to create one of the fanciest gatherings of the year.
Photo Credit: Brandon Driver
Le Dîner en Blanc took place for the first time in Las Vegas this year, and the city is the perfect setting for such an ordeal. "Las Vegas is a food city [with] fine cuisine," event specialist and host Pamela Ferrari tells JustLuxe, "it's a place that has fine entertainment, people [that] are interested in the arts…those things go along with Dîner en Blanc." This is an international dinner, and Vegas is an international city. The proceeding focuses on bringing family and friends together for a unique venture for one night, taking people from their busy lives and setting them down for a special picnic together. "It's how people used to get together on a social level a long time ago," Ferrari further explains, "without all the technical or outside things that are normally associated with big events."
Photo Credit: Brandon Driver
While there were potentially people of higher social standing in attendance, everyone is treated equally here. According to the event's other host Michael Habicht, Le Dîner en Blanc is all about friendship, and about promoting the magic of camaraderie. There are already many VIP events in this world he says, but this is an event where attendees are VIF's: Very Important Friends. "It's every demographic…it's all about the friendship of everybody. It's all about heritage, promoting magic and the joy of living, culture," Habicht stresses. The main goal is to elevate the ideal of equality regardless of race, gender, age or any social traits. This is one of the bigger reasons that everyone is transported to the dinner by bus. Nobody can show up to the occasion in a limousine, or any other form of social sanctification. Each person is an equal, riding the same method of transportation, enjoying the same atmosphere.
Photo Credit: Le Dîner en Blanc
The excitement of the crowd descending to the final location was palpable as it became clear that they would be dining in front of the brand new T-Mobile Arena right on The Strip. Note that this year, the tables and chairs were actually provided by one of the sponsors, which were loaded on the buses already. Purchasing/rentals were not necessary for guests, which has never been done before for a Dîner en Blanc. The size of these dinners vary, as last year in Paris, the event had 15,000 people, while the Las Vegas event had around 1,000 people attending.
Photo Credit: Brandon Driver
There is one other strict requirement for attendees: no paper, no plastic. Le Dîner en Blanc is a green event, and they do not want any trash produced. Attendees are encouraged to bring their nicest linens, china, and silverware. All materials must be reusable so that they can be brought back home and cleaned. One of the original concepts of the first Dîner en Blanc was that the guests show up and leave the place just as they found it; that continues today.
Photo Credit: Le Dîner en Blanc
Today, Dîner en Blanc takes place annually in many cities all over the world. While each city is planned separately (the Las Vegas event was actually put on by iii designs out of Los Angeles) the basic rule set says that you must know someone already invited, who can in turn invite you. Hoping to go next year? Start asking around now, because nearly every event fills far in advance.